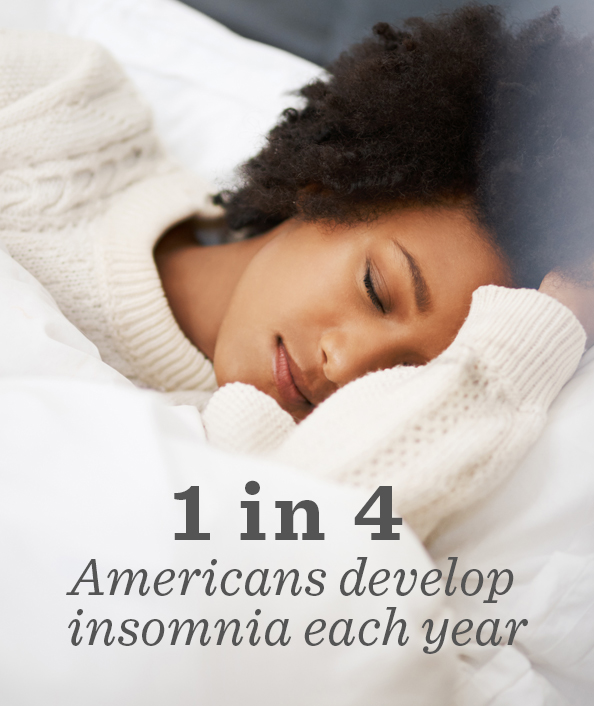 How much sleep do I need?
According to the CDC (Centers for Disease Control and Prevention)*, it is recommended that adults from 18-60 years old get 7 or more hours of sleep per night. Adults 61-64 should get 7-9 hours, and adults 65+ get 7-8 hours per night. While the amount of sleep you get each night is important, other aspects of your sleep also contribute to your health and well-being, such as the quality of sleep, the number of interruptions during the night, and sleep disorders.
It is generally recognized that sleep is vital for health and well-being. Healthy sleep – defined† as adequate duration, appropriate timing, regularity, the absence of sleep disorders and good quality – is important for cognitive functioning, mood, mental health and cardiovascular, cerebrovascular and metabolic health. Recent studies suggest a significant need for greater emphasis on sleep health in education, clinical practice, inpatient and longer-term care, public health promotion and the workplace.
1 in 4 Americans develop insomnia each year
30% of American adults have symptoms of insomnia
Up to 10% of American adults are likely to have chronic insomnia
Lost productivity related to insomnia costs the US economy about $63B yearly
83% of those who suffer from depression also experience symptoms of insomnia
Insomnia is a major contributing factor to deaths cause by motor vehicle crashes
Almost 80% of women experience insomnia during pregnancy
Roughly 27% of working women suffer from insomnia, compared to 20% of working men.
In other words, generally speaking we're not getting enough sleep!
That's where Med 7 comes in
In human clinical trials, Med 7 showed significant support in a better night's sleep in a double-blind placebo study of 150 patients. 91% of patients on Med 7 reported better sleep and more active dreaming compared to the placebo group. Med 7 also showed significant results in:
Reduction in anxiety scores
Lowering resting heart rate


What people are saying about Med 7 PM
Best sleep ever!
"I'm a very light sleeper, generally any little sound wakes me up. Since using your product I have not woken up even to my husband's alarm! I feel so rested the next day."
— Jenn | Dallas, TX
Great product!
"This is my first experience with CBD and it has been as effective as my doctor suggested that it would be. My sleep pattern, overall stress as well as physical inflammation in my knees after working out are all much improved."
— KB | Dallas, TX
This product is the best on the market!
"Med7 has helped me to sleep better and relieves stress. I actually am amazed at how well it is working for me."
— Blitzer | Indianapolis, IN
I would buy this product again.
"I use this product to help relieve stress and to promote sleep."
— Bob | Heber, UT
Knocked out!
"Best CBD on the market! It helped me sleep so deep and through the night. When I woke up I had drool on my face! Highly recommend to everyone."
— Heavy Lifter | McKinney, TX